Subscription business models are becoming a trend around the world as most consumer buying habits are trending towards a more clear and hassle-free purchasing experiences. 
Most companies are beginning to cruise the sea of subscription and seeing incredible growth. Such a business model owes its rising success to the favorable and optimal balance of provided value to both the offering company and the consuming customer. 
The value for customers lies in the simple convenience of not having to always make decisions about a certain purchase or re-ordering a certain service every now and then. It grants reassurance of not having to remind oneself constantly of what's needed to be done or renewed. Another benefit would be the flat rated offers which help customers stay within their budget. 
For businesses, the value of subscription comes from solid recurring revenue and the ability to form analytic reports that could actually predict sales recurring revenues. The model offering consistency in revenue also helps companies to predict and calculate the lifetime value of their customers and manage their inventory or resources according to those predictions.
Odoo's Subscription is a module that provides easy management of subscription products and the customer's full cycle of invoicing and handling their plans. It has become a prominent service choice for many business owners as it is cost-effective, less time-consuming, easy to use by both users and customers. 
Odoo's Subscription's automated features help you as a product/service provider to focus on building and growing a strong and long-lasting relationship with the client to cater to their business or design needs as they change. It builds a substantial level of trust allowing you to scale and predict your revenue in the long term. 
Now let's dig in a bit more into this awesome module and dive in to see what features it provides to both provider and customer. 
To be able to propose and sell subscription plans to a client, you need to familiarize yourself with the following:

Subscription Products:
The products which you sell to your customer by linking them to their subscription plan.

Subscription Stages, Close Reasons and Alerts
The stages you set for your subscriptions' progress & the alerts to be triggered when certain conditions are met.

Subscription Templates
The plan template where you define the basis on which your customers will be charged.

Subscriptions & Sale Orders
Sell your customer the subscription which best fits their needs. 
Subscription Products: 
To create a subscription product, navigate to 'Subscription Products' menu item under the 'Subscriptions' menu. You can see all created products on the menu (you can create products from the Inventory module as well). 
Notice that on the product's template 'Sales' tab, under the 'Subscriptions' section, you can configure whether the product is a subscription product' and assign it to a certain template.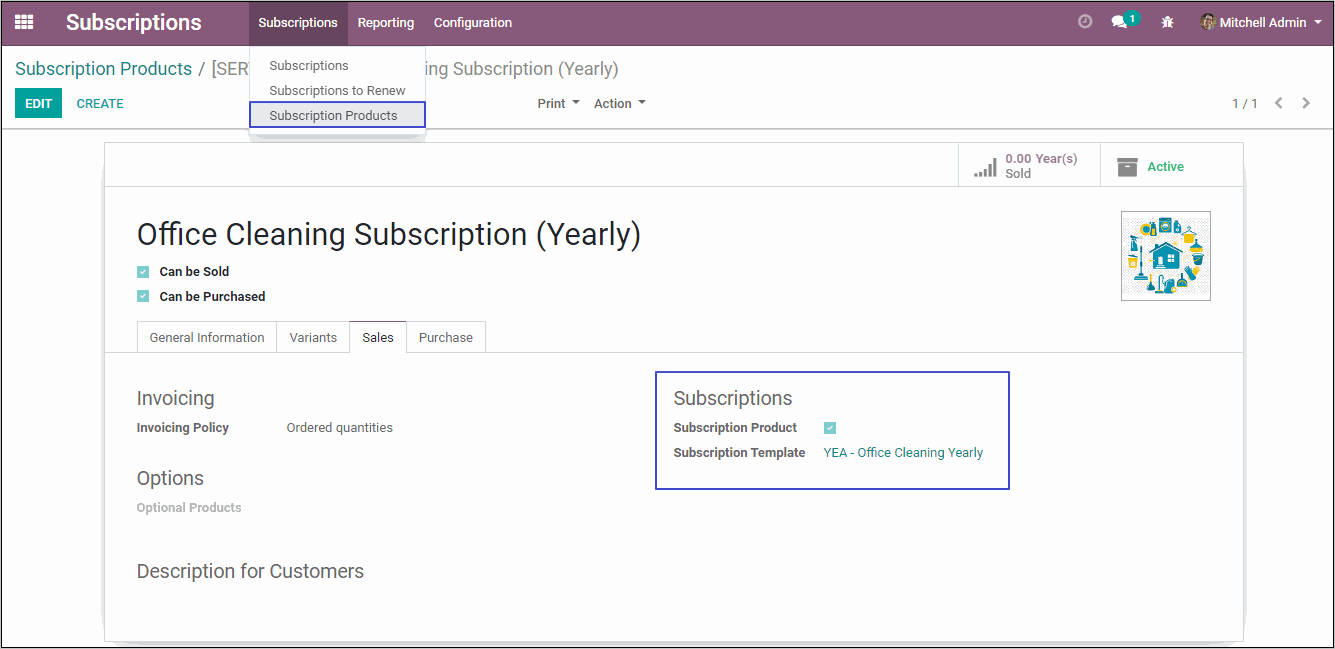 Subscription Stages, Close Reasons and Alerts
Stages and Closed Reasons: You can easily configure the stages you would like to maintain the progress of your subscriptions accordingly and the same goes for the 'Closed Reasons' which help you track down any decreased percentages of subscriptions to form a better strategy to not lose any in the future.

Alerts: You can create alerts for subscriptions with so many rules to configure to trigger a notification to certain people.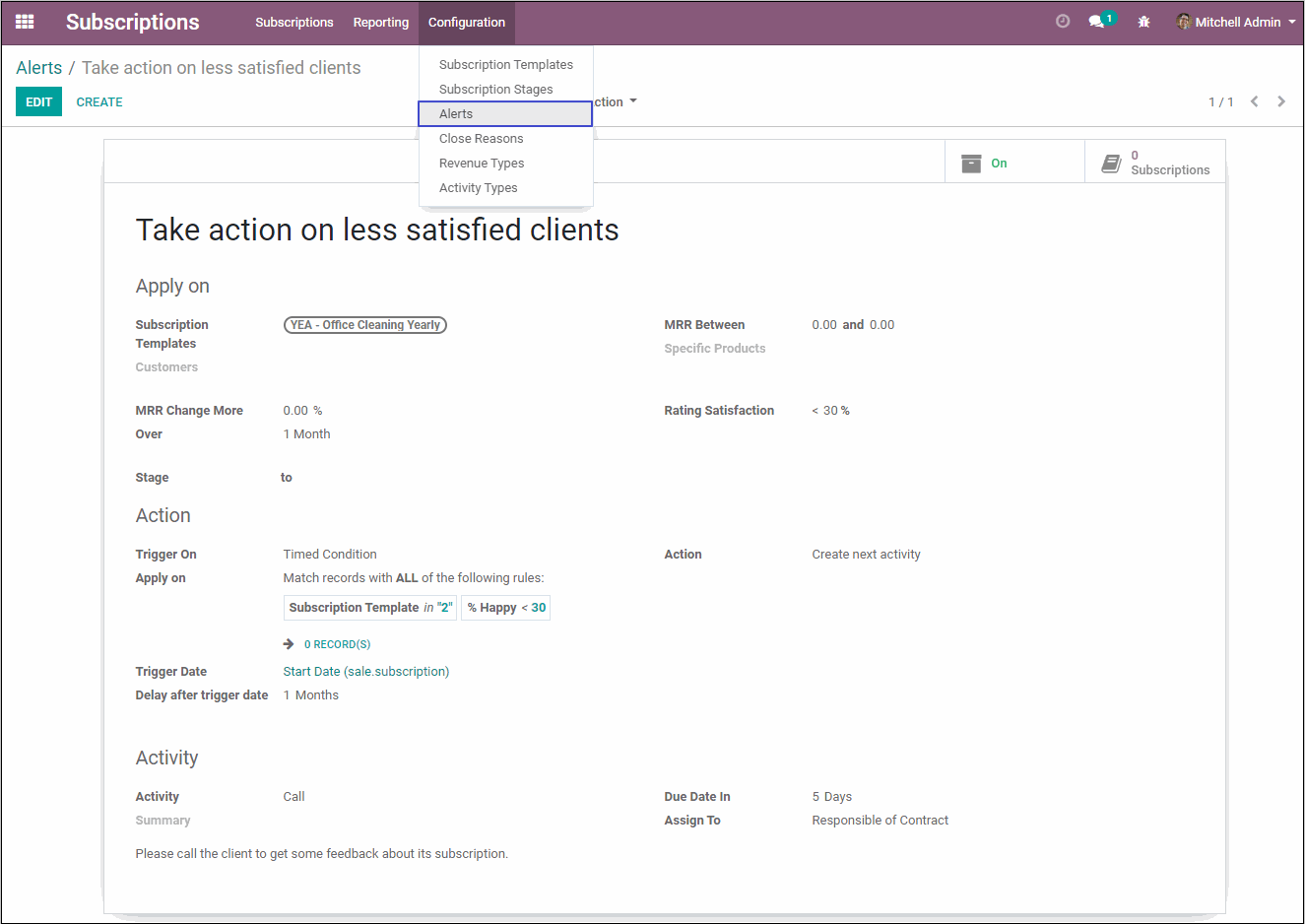 Subscription Templates
Subscription templates and plans can be easily created by navigating to the 'Subscription Templates' menu item under the 'Configuration' menu.
You can define on this form all needed detail and the plan on which you want to sell the customer such as:
Invoice Period: specify when the invoice for this plan should be generated.

Duration:

Forever: there is no end date for this plan which means the subscription will never close unless done manually. 

Fixed: specify the end date of this plan which means the subscription will close automatically once the set date has passed. 

Payment Method: define the basis of when to issue an invoice for this plan.

Customer Portal: Under this section, you have the details related to the customer themselves; what action can they perform and setting up journal entries...etc.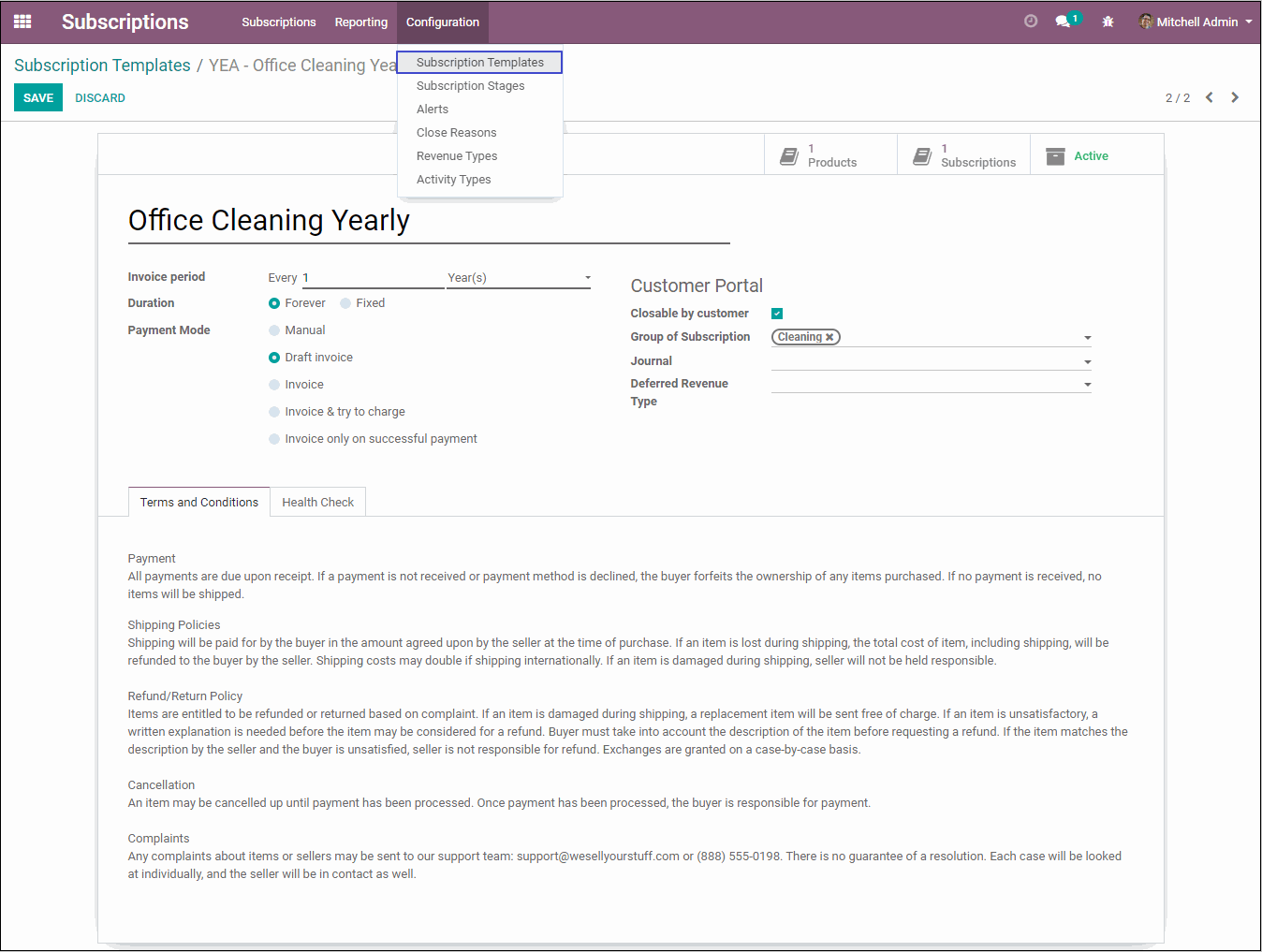 Subscriptions & Sale Orders
You can create your customers' subscriptions through Sales easily!
All you have to do is create a sale order with the desired subscription product in the product lines and once it's confirmed, a subscription record will be created automatically (you can view it via the smart button on the SO itself or through the Subscriptions module itself. 
Remember that we are talking about Odoo here, you can upsell your customer subscriptions and use profitability analysis and KPI reports to track your sales and revenue. And of course, if there are extra things you still need for your company, you can always contact a partner from your area to help you with customizations and support.