Every business has a core concern to be addressed and most of the time, that concern is the customer. To manage your potential customers AKA leads and opportunities on Odoo, you only need to use their CRM (Customer Relationship Management).
Odoo's CRM allows you to see all your leads/opportunities in one location, manage them from one stage to another, and analyze your results. In our modern and tech-savvy environment, marketing and sales teams are always looking for an easy way to track all of their prospects with easy access to their segmented and well-visualized information. 
Now let's not waste a moment and get into examining the cool features of Odoo CRM:
Lead Entry:


Odoo CRM could automate leads generation for you or let you enter leads through single entries or by mass importing them depending on the rules you set for your system.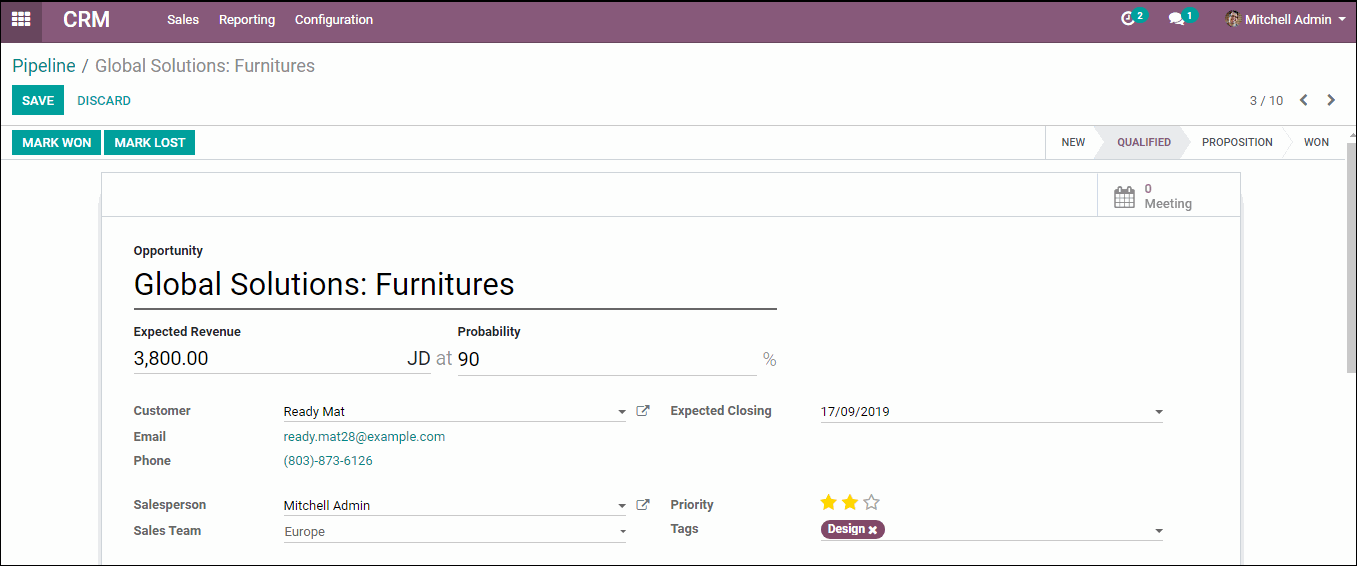 Lead/Opportunity Management:


After Entering your leads on the system, they would usually urge timely follow-ups from a salesperson to converting every lead to future quotations or cancel them. As leads go the sales process, they can be moved and dragged by the user from one stage to another. The stages can also be easily customized and created to best fit your business.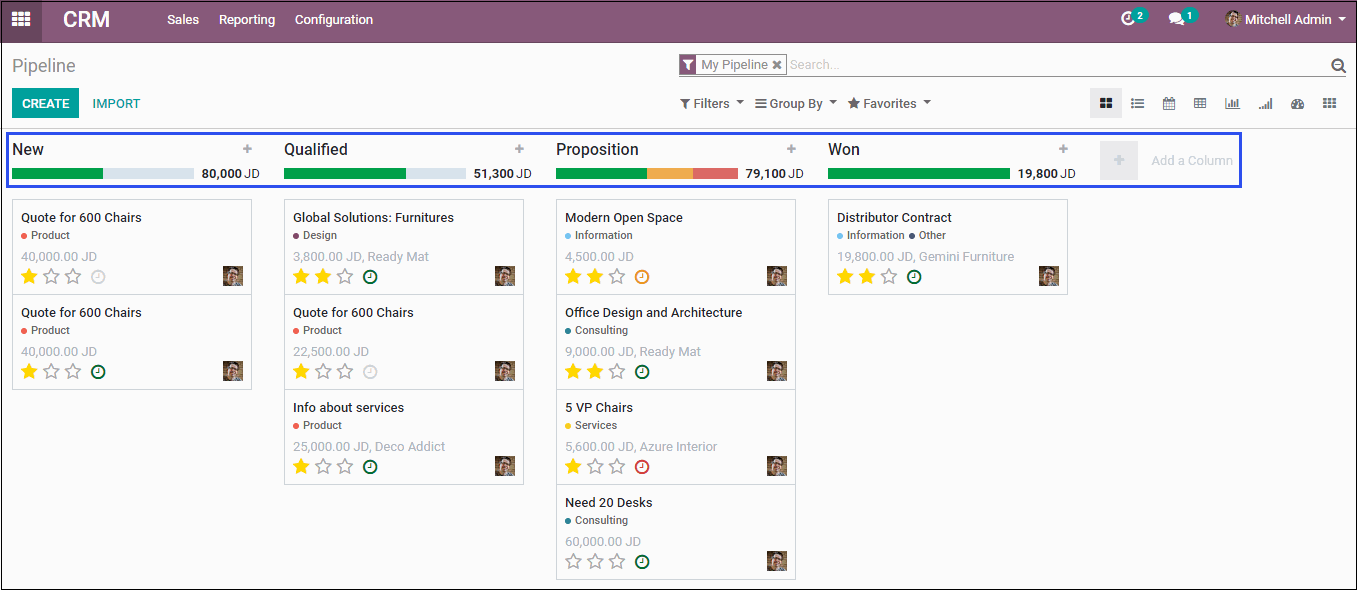 Lead Scoring:


Whilst having your hands full with managing your leads and analyzing the results, you can set rules to score leads automatically which helps in managing your spent time as well as schedule particular activities based on the quality of the lead.

Schedule Activities:


You can Schedule next activities, such as phone calls, meetings or emails to keep yourself on track. With e-mail and/or VoIP integration, you can email or call the client directly from your system. You can also manage your schedule with Odoo's inbuilt calendar, or integrate an external calendar such as Google which initiates freedom and flexibility in carrying out the communication processes. Every information is made visible in a single view in Odoo ERP helping the end user to plan meetings in the most suitable time.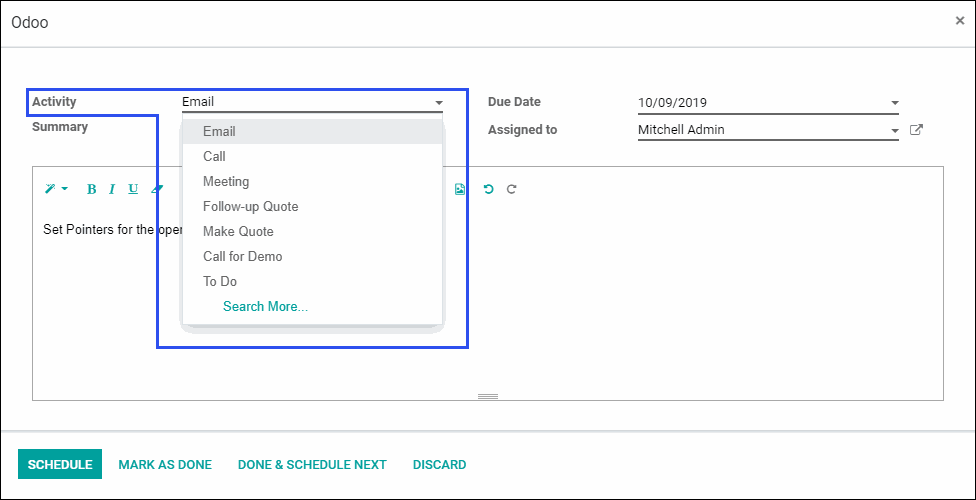 Creating and Sending Quotes:
After qualifying you leads, you can easily create and send quotations from within Odoo CRM by simply clicking on "New Quotation" on the lead's record, edit it and either send it by email or print it.

Reports/Dashboards:


Your salespeople and managers can access custom and dynamic dashboard reports where they can easily view important lead/opportunity KPIs, in the forms of graphs, charts, and more. They can also export and print the data, such a thing allows better analysis of your leads and opportunities, whether won or lost, according to whatever custom criteria you set.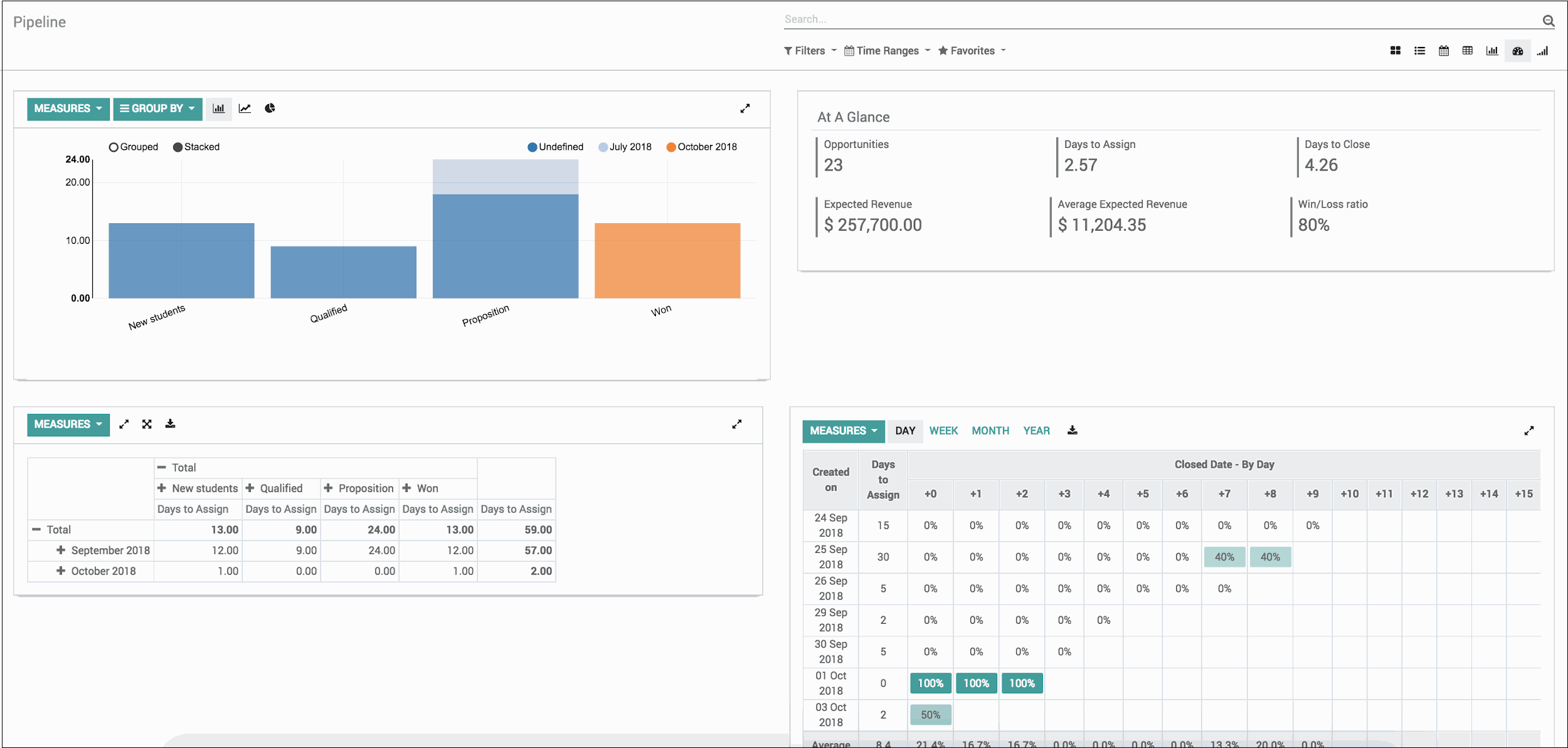 In short Odoo CRM, is such a powerful and efficient tool to manage leads and customers with a modern UI and the finest dashboards to overview your sales activities  and all needed information in one location. Customer Relationship Management is a crucial part to manage any organization or firm and With Odoo, the CRM gains even more efficiency, integrating with all of Odoo's other applications (Website, eCommerce, Sales, Accounting, Inventory, etc.).