In a world run by technology, launching your own business is a daring move if such a step is not calculated carefully. Running a paperless enterprise in the modern challenging business world fills a person with great content  (so does money, you know?).
Of course, when we're talking paperless environment and getting more money, it means we're talking about acquiring some modern software tools in your financial procedures, such as online invoices and payment automation. And if you know Odoo, then you already know how easy it is to use such an ERP system which integrates all modules under one umbrella. 
Invoicing in Odoo has never been more practical and depending on your business and what you sell, you have two options for invoicing:
Invoice on ordered quantity: invoice the full order as soon as the sales order is confirmed.

Invoice on delivered quantity: invoice on what you delivered even if it's a partial delivery.

You can decide your invoicing policy in the product page itself under the 'Invoicing' tab or from the 'Invoicing' section in general settings.
If you set it in ordered quantities, you can invoice as soon as the sale is confirmed. If however you selected delivered quantities, you will first have to validate the delivery and Odoo will automatically add delivered quantities to be invoiced based on whether you made a full or partial delivery.


Setting-up your crafty invoice template:

Once your company is created and its details are added properly, you can set a an invoice template through navigating to the 'Business Documents' section in the 'General Settings' and choosing the template you'd like.
Payment Method Setup, just the way you like it!

You can configure the option of online payments on Odoo easily.

Navigate to 'Settings' menu again in the 'Invoicing'/ 'Accounting' section and check the 'Invoice Online Payment' box under 'Customer Payments'.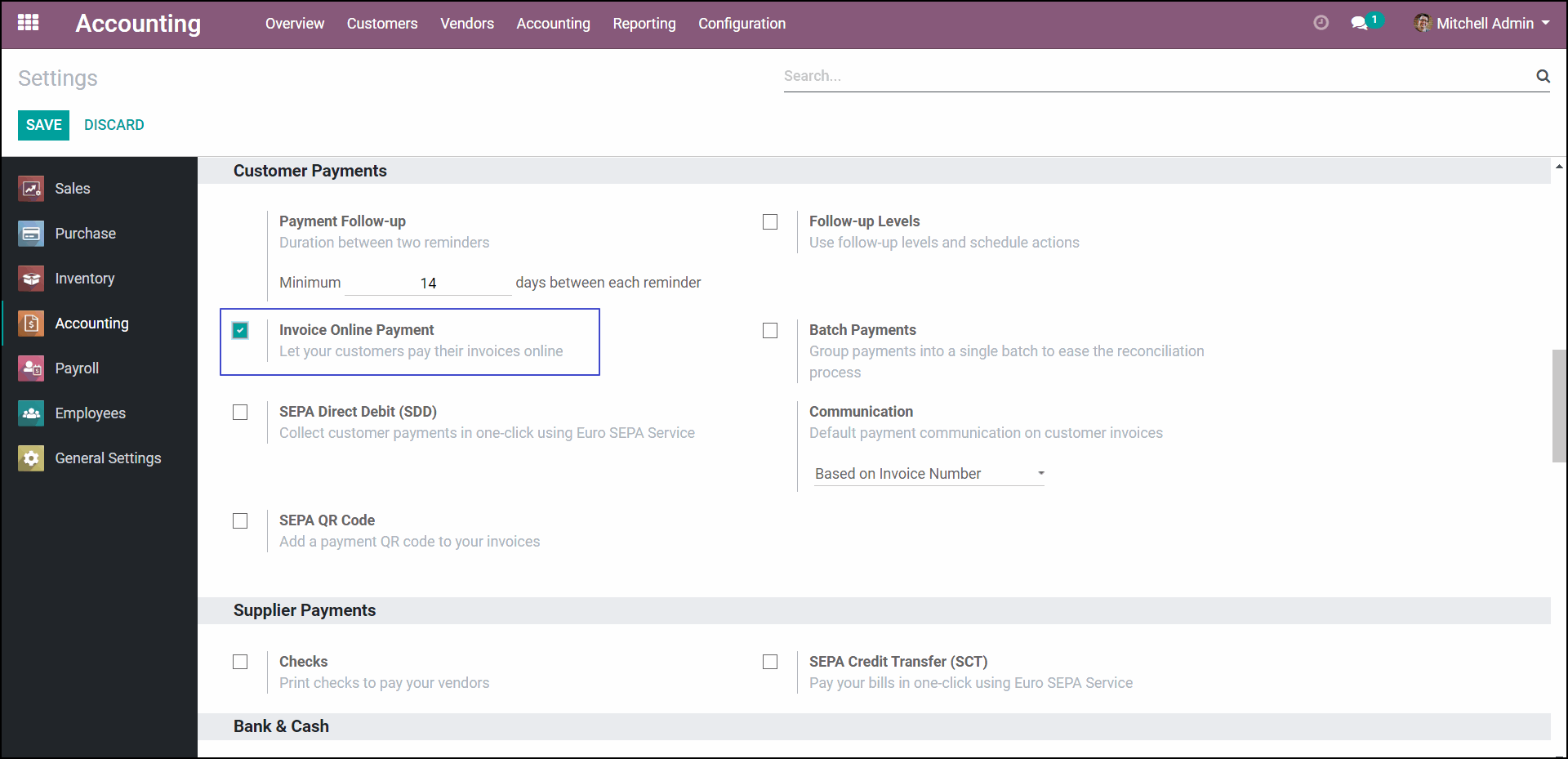 Move to 'Payment Acquirers' under the 'Configurations' menu in the 'Invoicing'/ 'Accounting' modules, then set up and activate the ones you need (setting up credentials, customer messages, configure payment journals and supported payments...etc)
Master Invoicing:

You can generate invoices or create them yourself easily:

Fill in the details properly, (customer, payment terms, products, notes...etc) and send it to your customer. 

You can preview the invoice on the customer preview before and after validation. The only difference between previews is the addition of the 'Pay Now' which enables the customer to pay online according to your configured and activated methods. (If the customer pays online then the invoice automatically changes its status to 'Paid')
If the customer decided to pay in cash, then all you need to do is register that payment accordingly and you can view payment information and history through the awesome info icon!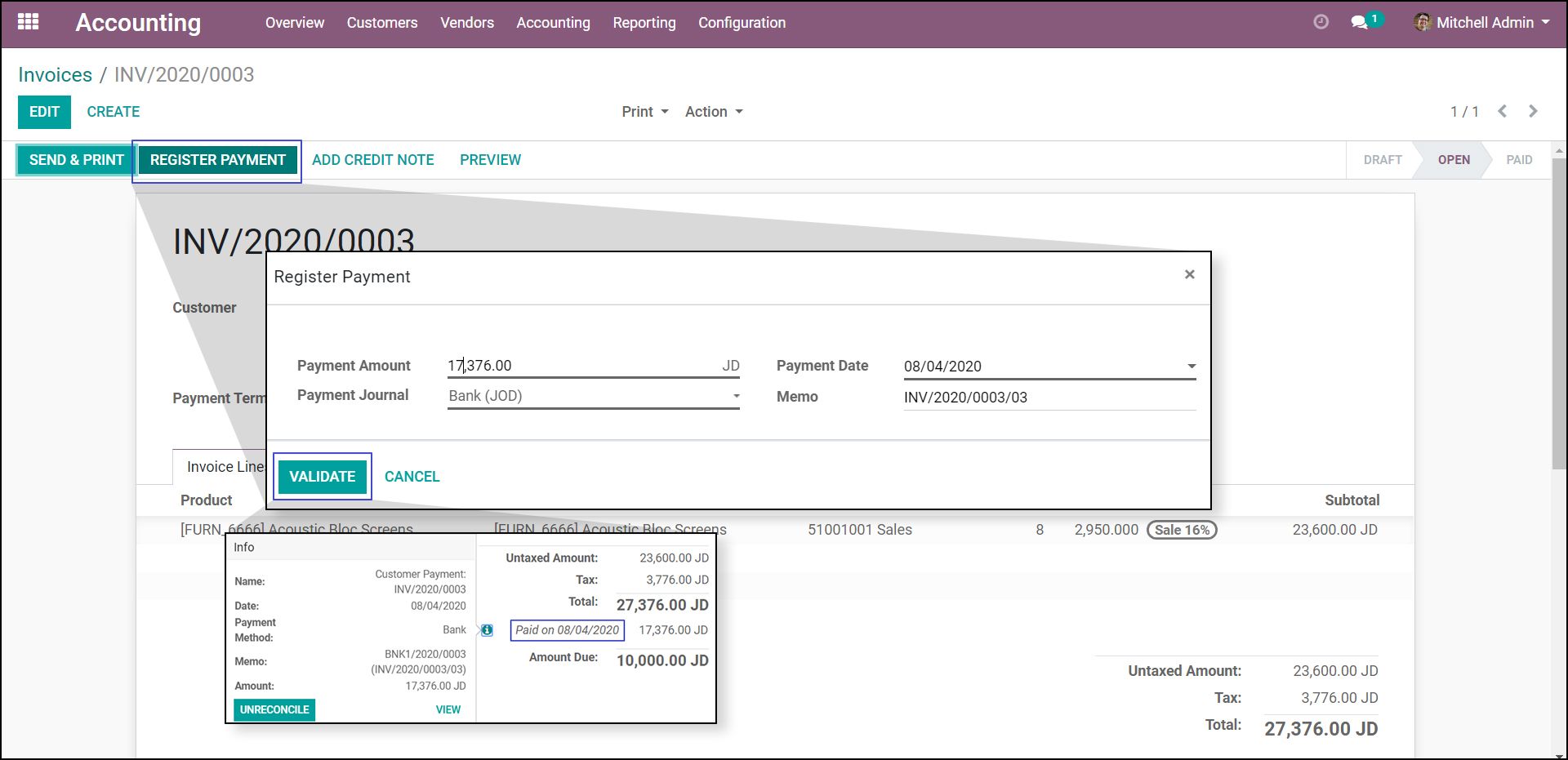 If by any chance your customer was unsatisfied with a product or it was broken, unfit...etc, you can easily compensate their payment by clicking 'Add Credit Note'. 

Once a credit note is added, you need to specify the reason & the amount or number of units to compensate then you must validate it and register the payment once the compensation has taken place. 


In Odoo Invoicing your transactions are synchronized every hour followed by accelerating reconciliation with Odoo's smart reconciliation tool saving your much needed productive time.
You can instantly generate Odoo invoices & send them via email in just a few clicks and payments are instantly reflected on your screen whenever done. It's a module fully integrated with many other Odoo modules such as: Sales, Purchase, Inventory...etc.
As usual, it's an Odoo module that's flexible, customize-able, seamlessly integrated as well as time-saving. A genre of art which a user gets accustomed to easily without hassles. 
Invoicing & Odoo Modules Integrations

Accounting
Record all invoices in your books and keep track of payments.

Projects
Enable your project right away. Step by step, get work done!

Sales
Easily select your invoicing method for every product and service.

Purchase
Obtain meaningful information about supplier invoices.